Witches in the Woods is a magical immersion event located in the heart of the Redwoods focused on preserving and promoting the powerful affects of Witchcraft in its most powerful forms.

The event is coordinated by Susan Diamond, Shimmering Wolf, Sethlan Foxwood and Orion Foxwood. Our focus is hosting events that are immersed in natural settings where we as witches can touch the Eldest of powers and the original forces of magic....nature itself....externally and internally. Evocative workshops, powerful rituals, ancient wisdom and direct experiences are the hallmarks of this event. We will do collective and individual work to access otherworldly realities, the wisdom of the spirits, powerful primal magic and sacred healing. If you wish to touch currents of wisdom, love and power that are deep, ancient, beyond the confines of ego and within a safe, sane and compassionate environment, this event is for you.
August 12-15th, 2016
This Year: Engaging the Invisibles:
Calling Forth the Helpful Spirits, Ancestors and Allies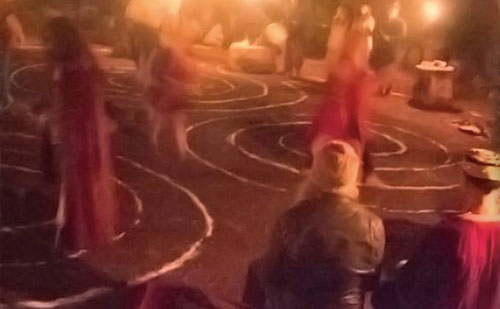 Each year, Witches in the Woods focuses it's annual gathering on accessing, developing and strengthening the diverse magical knowledge and areas skills needed by effective magical workers, with specific focus on resources for witches.
This year our vision is about inspiring a unified co-creative partnership between incarnate humanity and the "unseen company" that dwells just beyond the veil of our everyday awareness that invest in the wellbeing of our world.
Join us as we "get out of our heads" and into our inner-spirit and the spirit that flows in all things. We will engage and encounter the invisibles through trance dance, workshops, empowering practices, sacred offerings, community rituals, visionary processes. Consecrated gateways and blessed altars will be opened to invite clean and powerful spirits to enter and mingle with us to facilitate co-creative magic. Our work together is to hone ourselves to be magical agents of positive change through direct experience and exchange with the invisibles. All workshops and workings will be provided or guided by experienced witches and spirit-workers in a safe, compassionate, competent and caring community setting. As a wise woman once said "Only those who can see the invisible can do the impossible".
Once again, we will convene this magical convocation among our greenwood allies, the sacred Redwoods at the "Earth Matters" nature conservation and retreat center. This allows everyone in attendance to "re-nature" their mind, body and spirit to find that unfettered, quiet place within where peace, healing and power and yes….MAGIC resides.
Though this event will be fun and loving, it is not a mere social hangout. It is a weekent-long working of magic. Let us come together and make the magic that made the world!